Democratic contender lays out optimistic economic vision
Biden accuses Trump of protecting wealthy 'cronies and pals'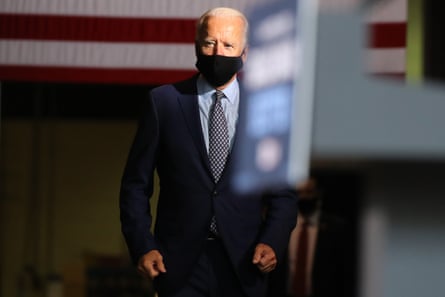 Joe Biden in Pennsylvania on Thursday. Biden said if he won in November, he would be 'laser-focused on working families. Image source: Getty Images
In an election year shaped by overlapping national crises, Joe Biden on Thursday laid out an optimistic economic vision, presenting a moment of turmoil as a "tremendous opportunity" to revive American industry, address systemic inequality, and prepare the US for threats posed by future pandemics and climate change.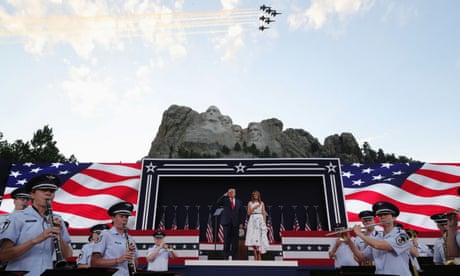 'It's a deliberate strategy': Trump uses civil war as culture war in bid to beat Biden
At a metalworks near his home town of Scranton in Pennsylvania, Biden delivered the first in a series of speeches detailing his economic agenda and framed around a new slogan: "Build Back Better". In a speech full of populist appeal, Biden declared manufacturing "part of the engine of American prosperity – now" and accused Donald Trump of protecting wealthy "cronies and pals" instead of working-class families.
"Throughout this crisis, Donald Trump has been almost singularly focused on the stock market, the Dow, the Nasdaq – not you, not your families," the former vice-president said. "If I am fortunate enough to be elected president, I'll be laser-focused on working families."
Biden directly challenged Trump over his stewardship of the economy, which the president's campaign see as his greatest – perhaps only – advantage. Though Biden dominates national and battleground state polling, voters consistently say they have more confidence in Trump's handling of economic concerns.
Before his remarks, Biden's campaign unveiled a proposal to invest $300bn in research and development of technologies such as electric vehicles, 5G cellular networks and artificial intelligence, and an additional $400bn for federal procurement of products made in the US. The plan would create "at least 5m new jobs in manufacturing and innovation", according to an outline provided by the campaign, which touted the "largest mobilization of public investments in procurement, infrastructure and [research and development] since the second world war".
Other policies include making it easier for workers to unionize and bargain collectively, and tightening enforcement of "buy American" laws designed to protect American industry.
The push to "buy American" and create jobs is part of a broader economic platform to "mobilize the American people", which includes, according to the campaign, an investment in a "clean energy future"; support for caregivers and domestic workers; and racial equality. Biden will roll out policy blueprints on those subjects in the coming weeks before the convention in August, his campaign said.
During the primary, Biden was criticized from the left for failing to call for "big structural change" like his rivals Bernie Sanders and Elizabeth Warren. But under historic unemployment and widespread financial uncertainty, Biden has started outlining an economic vision that compares in ambition and scale to Franklin Roosevelt's New Deal.
On Thursday, Biden said the pandemic, compounded by protests against police brutality, had shifted public opinion by exposing stark racial and economic disparities.
"The blinders have been taken off the bulk of the American people," he said.
Biden's economic recovery plan draws from his primary opponents, most of whom embraced sweeping plans such as Medicare for All and the Green New Deal. It includes a version of a plan first proposed by Warren, a contender to be Biden's running mate, to leverage the federal procurement process to buy US-made products and create jobs.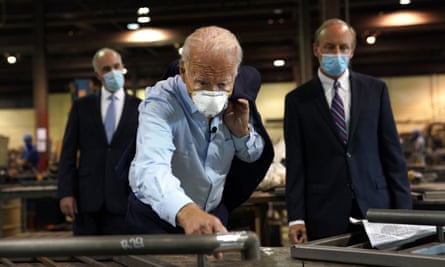 Biden at the metalworks on Thursday. image source Getty Images
Warren and other former rivals including Pete Buttigieg and Amy Klobuchar, and potential vice-presidential picks including Tammy Duckworth and Gretchen Whitmer, are expected to tout the plan this week, demonstrating a united Democratic front.
The economic agenda contains some echoes to Trump's "America first" approach. But the Biden campaign says Trump's promise to "buy American" is mostly empty rhetoric, pointing to a rise in foreign procurement and the continued offshoring of jobs by US companies.
"Donald Trump wants to talk, and talk and talk," Biden said. "But after three and a half years of big promises, what do the American people have to show for it?"
Biden argued that Trump's handling of the world's largest economy – from the imposition of tariffs to trade negotiations with China and the 2017 tax cuts – have hurt ordinary American workers and benefited multinationals and Wall Street. To pay for his spending plans, Biden has proposed reversing tax cuts for the wealthiest Americans.
As coronavirus infections rise, Biden continues to enjoy a steady lead in national and battleground polling. According to a recent Pew Research analysis, the economy is perhaps Trump's lone advantage. Voters consistently say Biden is better suited to handle the pandemic, race relations and foreign policy.
Biden accused Trump of bungling the response to the coronavirus, emphatically stating: "His failures come with a terrible human cost and a deep economic toll.
"Time and time again, working families are paying the price for Donald Trump's incompetence."
Trump has continued to push states to reopen businesses and schools. Several Republican governors who heeded calls to open are now facing serious outbreaks.
On Thursday, the Trump campaign issued a new TV ad attacking Biden's "dangerous and foolish" economic record. The 30-second spot highlights the then Delaware senator's 1993 vote for the Nafta trade deal that critics say harmed US workers, his support for growing trade relations with China, and his advocacy on behalf of the Trans Pacific Partnership as vice-president.
Vice-President Mike Pence was also in Pennsylvania on Thursday, to attend a business roundtable focused on reopening the economy and to address Philadelphia police.
The dueling visits underscore the electoral importance of a state that went narrowly for Trump in 2016. Recent polling has Biden leading Trump in Pennsylvania, though the margin has narrowed.
As Biden neared the end of his speech, he invoked state history, addressing debate surrounding the removal of Confederate flags and monuments, which Trump has resisted in an attempt to cast himself as a protector of "our heritage".
"Do you think Trump has any idea that 360,000 Pennsylvanians fought on the side of the Union to defeat that flag – including more black soldiers than any other state?" Biden said. "Do you think he has any clue that 33,000 Pennsylvanians died in the civil war fighting against everything that flag stood for.
"I see a different America than Trump."
Since you're here …
… joining us from India, we have a small favour to ask. Millions are flocking to the Guardian for quality news every day. We believe everyone deserves access to factual information, and analysis that has authority and integrity. That's why, unlike many others, we made a choice: to keep Guardian reporting open for all, regardless of where they live or what they can afford to pay.
As an open, independent news organisation we investigate, interrogate and expose the actions of those in power, without fear. With no shareholders or billionaire owner, our journalism is free from political and commercial bias – this makes us different. We can give a voice to the oppressed and neglected, and stand in solidarity with those who are calling for a fairer future. With your help we can make a difference.
We're determined to provide journalism that helps each of us better understand the world, and take actions that challenge, unite, and inspire change – in times of crisis and beyond. Our work would not be possible without our readers, who now support our work from 180 countries around the world.
But news organisations are facing an existential threat. With advertising revenues plummeting, the Guardian risks losing a major source of its funding. More than ever before, we're reliant on financial support from readers to fill the gap. Your support keeps us independent, open, and means we can maintain our high quality reporting – investigating, disentangling and interrogating.
Every reader contribution, however big or small, is so valuable for our future. Support the Guardian from as little as $1 – and it only takes a minute. Thank you.
Support The Guardian